More Pictures of Calliope




Getting stoppers out of pipes

---
Bottom view of stopper
---
Second style of stopper
---
Only one stopper of the wood and leather construction
---
Just a few left in the smaller pipes
---
Both styles can be found in the smaller pipes
---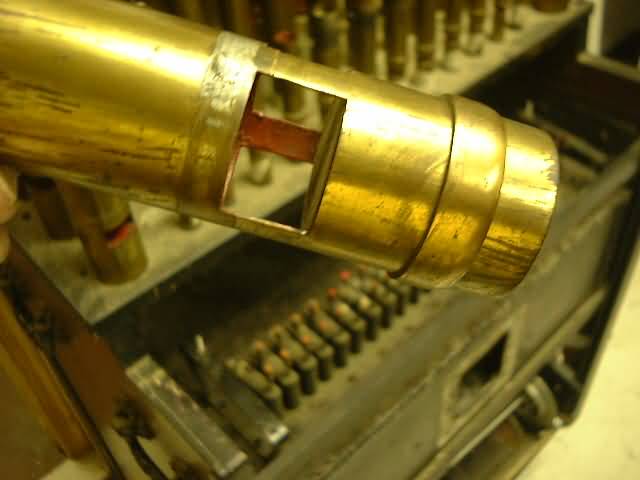 Note that ring adjusting opening has slipped down on this pipe

---
Valve Assembly
---
Close-Up of Valves
---
Close-Up of valves after removing stems and cleaning
---
Seat side of valves
---
Valve Stem with leather fixed seat (No Tilt)
---

Valve stem with leather

---
Reverse side of brass showing corroding
---

Frame with pressure reservoir (Right End View)

---
Frame with pressure reservoir (Left End View)
---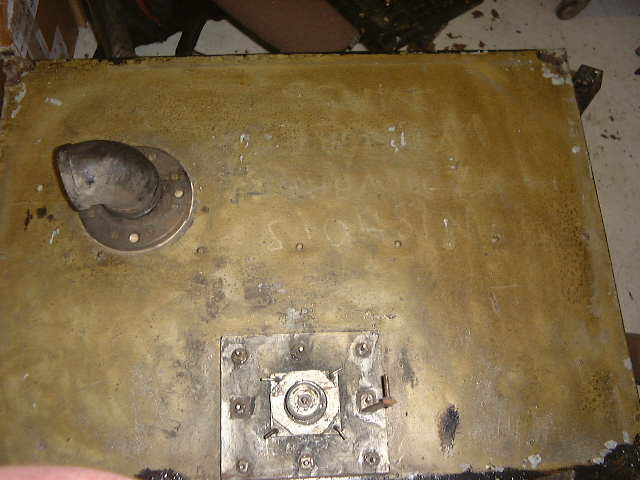 Bottom view of reservoir, input and relief valve

---
Bottom, showing faint lettering on bottom. Part says "NICHOLS" and WORCESTER, MA
---
Information on the W. H. Nichols Company of Worcester, Ma
In 1904 William Hart Nichols started the W.H. Nichols Company in his cellar workshop. Starting out manufacturing watchmaking tools, the company moved to pumps used to make rayon fiber. They produced pumps and other aircraft components during World War Two, and expanded to about 800 employees. In 1984 the company was acquired by the Parker Hannifin Corporation.
From some early 2003 emails from Joy (Burns) Lambert
I was wondering why there wasn't any information on the W.H. Nichols Company in the history. My father worked there many years. They made many different pumps. W. H. Nichols first shop was in the cellar of his home on Spruce St. to a barn on Lawrence St. changes made in 1907 to part of Burgin's Boat House ( later the New England Mica Co.) In 1908 the first "big" shop on Gifford Ave (which became the parking for Grover Cronin's Store). During this time work produced, mainly precision parts, Watchmaking tools, parts for International business Machine Company, gages and fixtures for the manufacture of the Stanley Steamer. In 1912-1913 they broke ground on 48 Woerd Ave.
1 the Nylon & Rayon Pump used to make Nylon and Rayon.
2 Turbo Supercharger Lubricating Pump which were in the planes in world war II.
3 Navy Air Pumps an accessory used in the powerfull Pratt and Whitney engines used in Navy pursuit and night flighter planes.
4 Navel Pumps made to meet the requirements of the United States Navy for use in battleshipes, cruisers, destroyers, aircraft carriers and submarines.
5 Gerotors- the heart of the Nichols percision pump is usually a gerotor, made in many sizes and capacities.
This is just some imformation I have taken from books My father William Burns has left me. there is alot more which i havent even read but would like to share for the History of Waltham.
I would be very please for you to post the information.. My father William M. (Skipper) Burns would be honored as it was an important part of his life and many others..If you dont mind i will send more as i find it there are pictures also .. thanks for the link you sent I will share it with family as i think my aunt also worked there for a short time. They also started a boys organization called the sea scouts which may boys of waltham enjoyed and learned from. Ran much like the Navy, learning knots, boating, camping ect... thank you for your time and interest. Joy (Burns) lambert
Back to Part One